The Harley Davidson V Rod Night Rod 'Police' customized by Bad Boy Customs from Germany is a motorcycle that exudes power and authority. With its sleek and modern design, it stands out on the road and demands attention.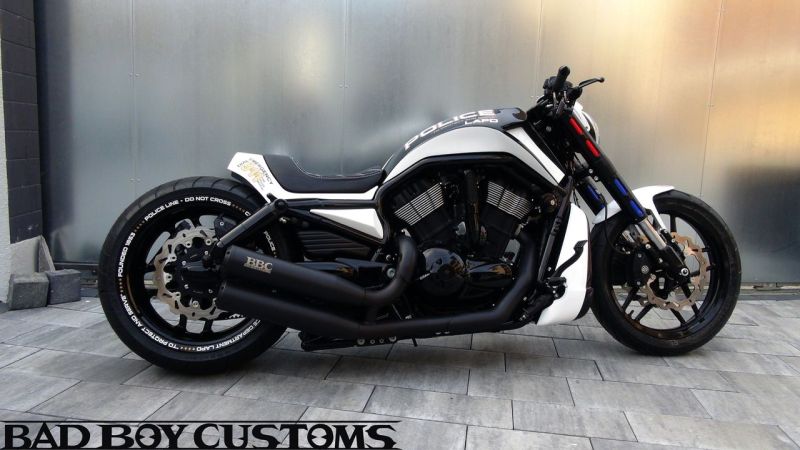 One of the notable features of this bike is the rear wheel extension provided by Bad Boy Customs. The 10×18 BBC 012 rim horn rear wheel is adorned with LAPD data, giving it an authentic police aesthetic. The rear tire, measuring 280 butcher, provides excellent traction and stability on the road.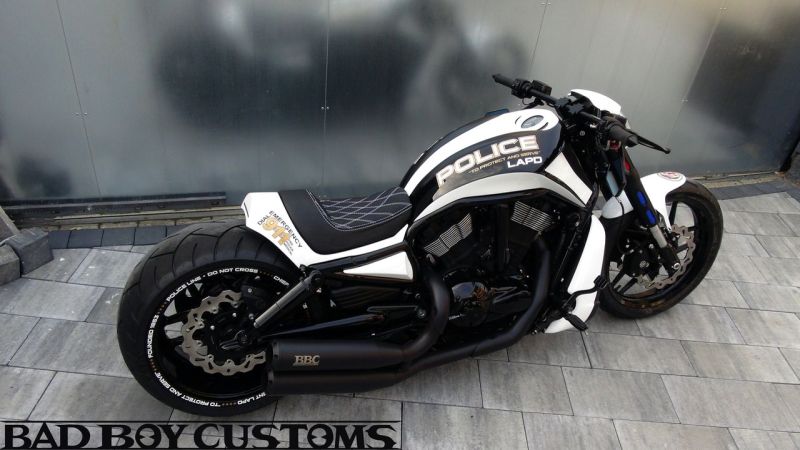 To complement the overall look, a rear fender Razor BBC 033 and a front fender short BBC 036 are installed.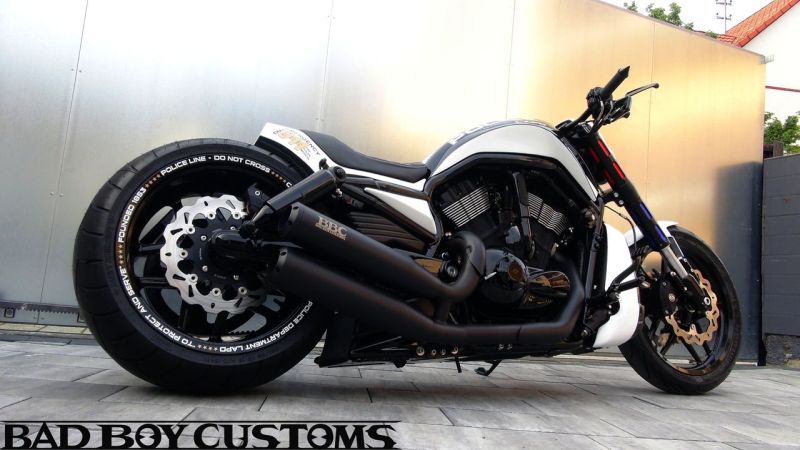 The bike also features various custom parts and accessories. The airbox cover with air intakes BBC 024 provides improved airflow and adds a stylish touch to the bike.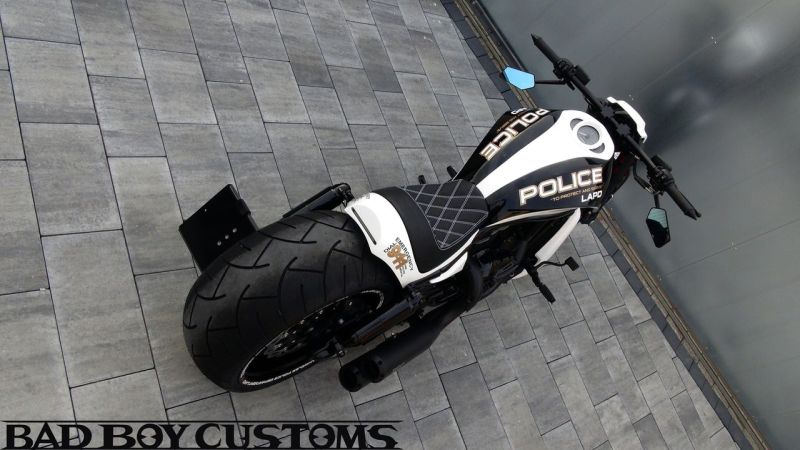 The riser without visible fittings BBC 002 gives a clean and minimalist look to the handlebars. The fork sleeves cut out BBC 021 add a unique design element to the front end of the bike.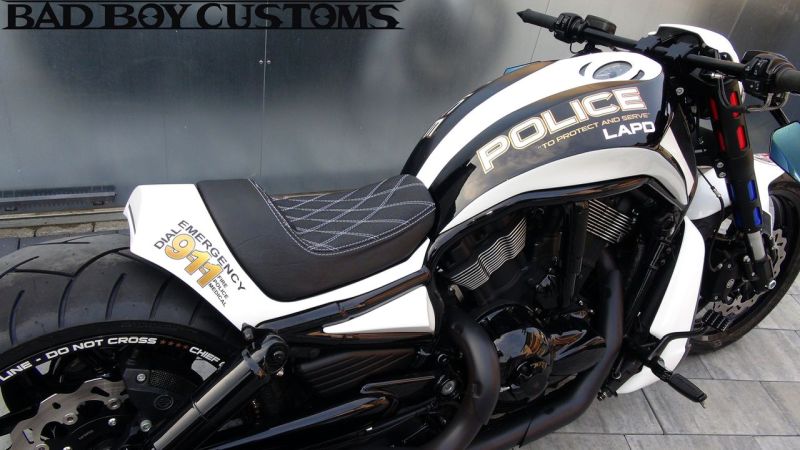 In terms of performance, the bike is equipped with wave brake discs vo/hi BBC 073 & BBC 074, which provide efficient braking power. The saddle Roche/lozenge pattern stitching white, made from smooth leather, offers both comfort and style. The license plate holder on the side BBC 060 adds a neat and tidy appearance to the bike.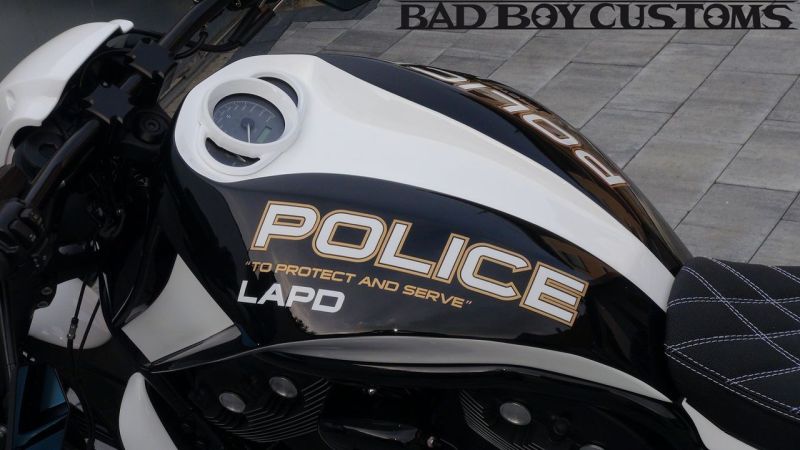 One of the standout features of this Harley Davidson V Rod Night Rod is the airride suspension, which is infinitely adjustable. This allows the rider to customize the bike's ride height and comfort according to their preferences.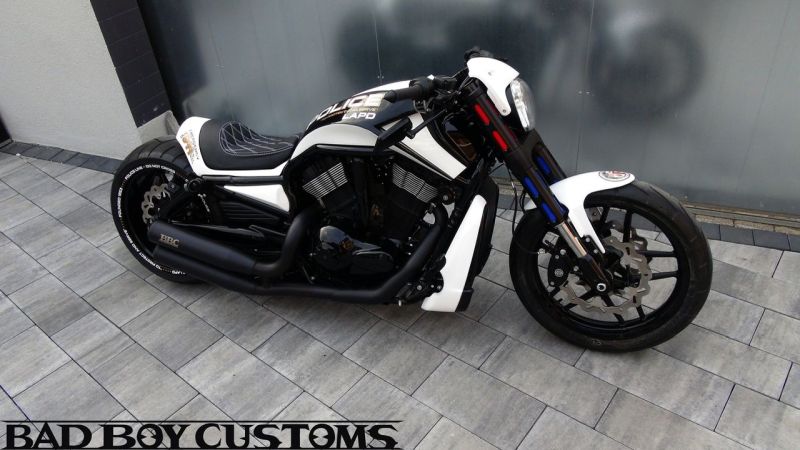 Other notable features include mini front/rear turn signals, blinker holder Bad Boy Customs, stainless steel handlebar BBC 051, handlebar end tips Bad Boy Customs BBC 068, and exhaust system Bad Boy Customs 2in2 with TÜV BBC 001.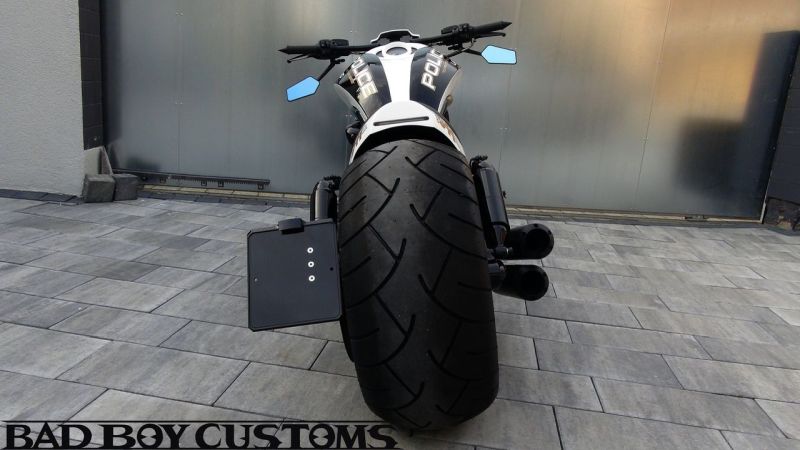 In terms of aesthetics, the bike features black powder-coated parts such as the grating brake caliper, brake/clutch lever, pulley, starting shock absorber, and latches complete. This gives the bike a sleek and aggressive look.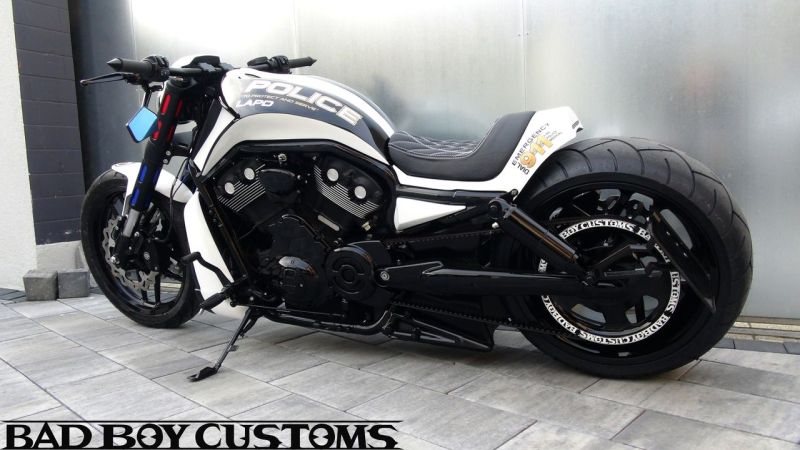 Overall, the Harley Davidson V Rod Night Rod 'Police' customized by Bad Boy Customs is a true masterpiece that combines power, style, and functionality. Contact Bad Boy Customs at [email protected] for more information about this exceptional motorcycle.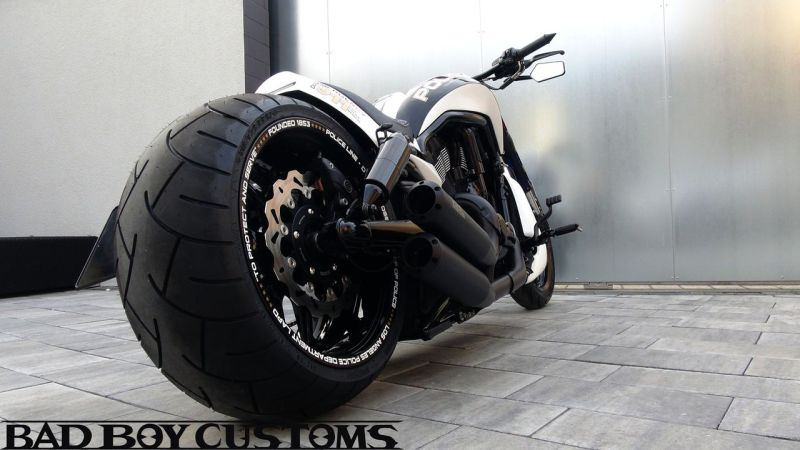 Night Rod parts
Rear wheel extension Bad Boy Customs on 10×18 BBC 012
Rim horn rear wheel provided on the right with LAPD data
Rear tire 280 butcher
Rear fender Razor BBC 033
Airboxcover with air intakes BBC 024
Front fender short BBC 036
Riser without visible fittings BBC 002
Fork Sleeves Cut Out BBC 021
Wave brake discs vo./hi. BBC 073 & BBC 074
Saddle Roche / smooth leather lozenge pattern stitching white
License plate holder on the side BBC 060
Airride suspension, infinitely adjustable BBC 070
Turn signal mini front / rear
Blinker Holder Bad Boy Customs
Handlebar stainless steel BBC 051
Handlebar end tips Bad Boy Customs BBC 068
Exhaust system Bad-Boy-Customs 2in2 with TÜV BBC 001
Pace Car Blitzer red / blue
CNC Milled Mirror / Black BBC 370
Black powdered parts: grating brake caliper, brake / clutch lever, pulley, starting shock absorber, latches complete