Choose your Custombike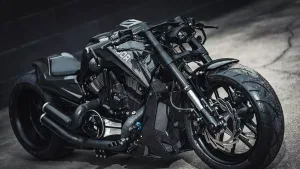 DISCOVER ALL OUR V-RODS Introducing the Harley-Davidson Night Rod 'Aventador' by Inca Motorcycles, a stunning and
Harley-Davidson history
Harley-Davidson is a brand that has become an icon in the motorcycle industry. Harley has been producing motorcycles for over a century, and its bikes are known for their unique design and performance.
The company's origins can be traced back to 1901, when William S. Harley designed a small engine to fit on a bicycle. The following year, he joined forces with Arthur Davidson, and the two began building motorcycles in a small shed in Milwaukee, Wisconsin.
In 1903, they created the first Harley-Davidson motorcycle, and within a few years, the company had expanded its line of products to include sidecars and motorized tricycles. During World War I, the military made extensive use of Harley-Davidson motorcycles, and the company became a household name.
Through the 1920s and 1930s, Harley-Davidson continued to grow, and its motorcycles became even more popular with a wide range of riders, from police officers to motorcycle gangs. The company's bikes were known for their powerful engines, which allowed them to reach high speeds on the open road.
The Great Depression of the 1930s hit the company hard, and it struggled to stay afloat. But a loyal customer base and a commitment to quality helped Harley-Davidson survive these difficult years, and by the end of the decade, the company was once again thriving.
During World War II, Harley-Davidson produced more than 90,000 motorcycles for the military, and the company's reputation as a top-quality manufacturer of motorcycles.
In the second half of the 20th century, Harley-Davidson continued to innovate and grow, introducing new models like the Softail, which combined the classic Harley-Davidson look with modern features like improved suspension.
And now …
Today, Harley-Davidson is recognized as one of the top manufacturers of motorcycles in the world, with a loyal fan base that stretches from the United States to Europe and beyond. The company has also expanded its offerings to include merchandise like clothing, accessories, and collectibles, allowing fans to show their support for Harley-Davidson in every aspect of their lives.
As a company that has been in business for over a century, Harley-Davidson has seen its fair share of ups and downs. But through it all, the company has remained committed to producing high-quality motorcycles that capture the spirit and tradition of the open road. As a result, Harley-Davidson will continue to be a brand that riders around the world admire and respect for many years to come.