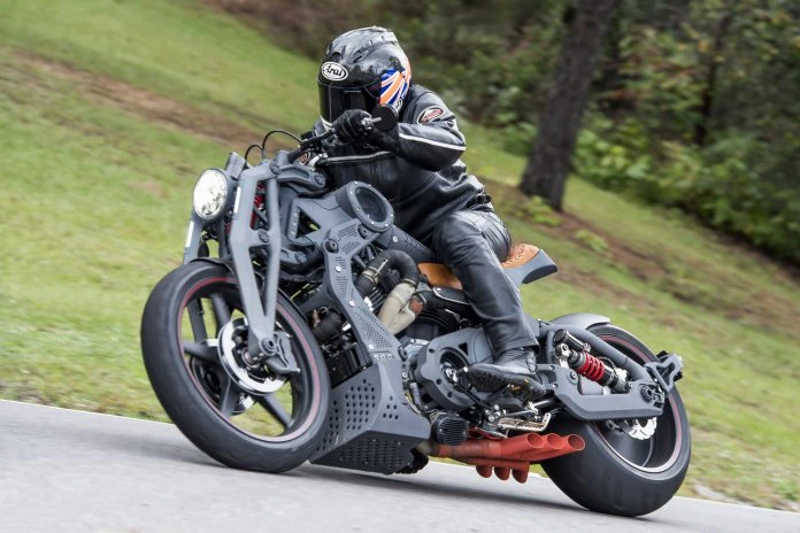 ✅ The FA-13 Combat Bomber by Confederate Motorcycles
> Country 

USA
> Model 

"The FA-13 Combat Bomber"
> Style 

Conceptbikes
Contact [email protected]
Promotional code DARKKUSTOM.COM
Reserve your FA-13 Combat Bomber 

$135,000.00
The FA-13 Combat Bomber parts
100% carved from billet aluminum
Over 800 hours to machine all components
Anodized stealth-matte gray finish
​Each motorcycle is handcrafted to be an heirloom work of art that looks and rides like rebellion itself
NEXT GENERATION REBELLION
​In August 2016, the Confederate team took a race-spec P-51 Combat Fighter to the famed Bonneville Salt Flats. The P-51 achieved a top speed run of 164.95 mph on very slippery salt.
With it's race-spec suspension components and exhaust system, and a newly designed air intake system informed by these Bonneville speed runs, the FA-13 COMBAT BOMBER is the direct result of the P-51 land speed bike.
The FA-13 Combat Bomber is the most powerful motorcycle ever produced by Confederate. You could argue it's also one of the most aggressive as well – thanks in part to a monocoque frame made from 100 percent military-spec billet and a stealth-matte anodized finish.
The FA-13 Combat Bomber photos
Confederate motorcycles for sale