Welcome to Dark Kustom
The ultimate destination for motorcycle customization around the world! We are thrilled to have you on our website, where we bring together the best of motorcycle brands, styles of modifications, and motorcycle builders from across the globe. Whether you're a die-hard motorcycle enthusiast or simply looking to give your bike a unique edge, our website is the perfect place to find inspiration and connect with like-minded individuals.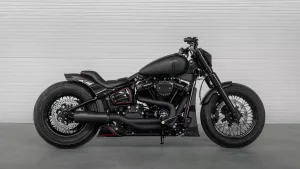 DISCOVER ALL OUR BREAKOUT Breakout for sale
At Dark Kustom, we take pride in our mission to showcase the best of customized bikes and their creators. We have categorized our content into three main groups for easy navigation: motorcycle brands and models, styles of modifications, and motorcycle builders. Browse our extensive collection of motorcycle brands and models to find information, specs, and inspiration for your own personalized bike. Explore our gallery of style categories, including café racer, bobber, tracker, chopper, scrambler, and more! Finally, connect with our featured motorcycle builders from all over the world who have turned their passion into a living through amazing and creative customization work.
We hope you enjoy our website and find our content inspiring and helpful!